Zuventus Healthcare Wins prestigious India's Most Valuable Revolutionary Pharma Company Award at Pharmaleaders Power Brand 2014
Zuventus Healthcare Wins prestigious India's Most Valuable Revolutionary Pharma Company Award  at Pharmaleaders Power Brand 2014
India's fastest growing Anti-Infectives Formulation Major & The Leader in branded formulation market was voted by the Network 7 Media Group Jury for sustained growth momentum, financial stability, corporate HR & the Breakthrough Innovations In the New Product Launches in the fiercely competitive Indian Formulation Market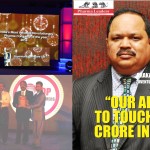 Saturday,3rd January 2014, Mumbai, Maharashtra : Mumbai based Zuventus Healthcare Ltd, The leader in cancer care products, and pain management and wound care therapeutics founded in 2002 and is based in Mumbai, operating  as a subsidiary of Emcure Pharmaceuticals Limited received a rare distinction at the prestigious 7th Annual Pharmaceutical Leadership Summit & Pharmaleaders Power Brand Awards 2014 by receiving the coveted India's Most Valuable Revolutionary Pharma Company Award ( www.pharmaleaders2014.com ) by the Pharmaleaders jury for sustained growth momentum, financial stability, corporate HR & the Breakthrough Innovations In the New Product Launches in the fiercely competitive Indian Formulation Market. A joint venture of Emcure Pharmaceuticals Ltd & backed by its strengths of R&D, quality & Innovative Technologies, Zuventus Healthcare provide Innovative therapies in the field of health care. The Company is known for a strong marketing network with over 3000 field force with a strong product basket is the most watched company for making speedy progress within a short span of time in the fiercely competitive domestic formulation market. Presently having a 600 crore turnover, Zuventus Healthcare aims to achieve a 1000 Crore mark by the year 2016. Speaking to Pharmaleaders ( www.pharmaleaders.tv ), Mr. Prakash Guha, MD & CEO of Zuventus Healthcare Limited said " The Award signifies Zuventus Healthcare  commitment to healthcare innovations & Zuventus Healthcare  continued focus on manufacturing & R &D field as a major areas of operation, We understand that Pharma market in india is a tough task where brand building is a key & Zuventus is always believed to make the Brands Bigger & acceptable to the medical profession. Rather than acquisition, Zuventus has always built its homegrown brands & made it big, we are the very few company which believes in empowerment of team work & professional growth. I am sure with a dedicated sales foprce & a strong R & D backing, Zuventus Healthcare will emerge out as a top 10 player in the Indian market soon.". Zuventus is a pulsating Company that believes in employee's talents to be honed, achievements to be valued and recognized. People at Zuventus are entrusted with responsibilities and are encouraged to actively contribute to the long term sustainable business growth in this highly competitive era.HR core value i.e 'TO CARE' lies in nurturing the employees from the day of joining. Our business dynamics offers employees with opportunities to acquire the desired functional goals, enhancement of people managements skills and facilitating the decision making power. Thus Zuventus is a "People-Centric" company.Our Performance Management System involves in setting up clear, quantifiable goals and objectives and assessing individual performance against these measures. The bottom line lies in the overall achievement of set goals both of the employees and the company. We have consistently strived to provide an employee friendly and stress free work environment that is conductive to holistic personal growth.As we are in pace with our core values, we invite you to be an integral part of this exciting journey which assures unparalleled exposure and experience".
Crossing the enviable 100 Cr turn over mark in just 18 months of operations, Building Mega brands which made it into Top 300 industry brands in less than 5 years of our existence, Achieving leadership positions for some brands displacing even well entrenched MNC brands are some of the top achievements. Zuventus is driven by a team of professionals with exceptional performance record in previous assignments. Naturally there was no dearth of cZuventus Healthcare age to set challenging goals and achieving them through conviction and confidence. What makes  Zuventus Healthcare unique was slew of milestones, perhaps even beyond imagination of most, if not all pharma players. Zuventus Healthcare made a All India Launch with 400 field personnel (July, 2002). Zuventus Healthcare is the fastest to cross ORG-IMS reflections of 100 Cr., 200 Cr. and now even 600 Cr. mark. Zuventus Healthcare's Launch of speciality focused divisions for effective penetration in multiple specialties and market segments.
Milestones
Gromaxx: 2005 – Gastroenterology & Respiratory
Oncocare: 2008 – Oncology
Odenea: 2010 – Pain Management
Generia & Institutions: 2012 – To tap vast potential of generics, hospitals and institutions
Building leader brands: (SZuventus Healthcare ce: ORG-IMS)
Augpen,Maxtra
Eslo,Feronia
Bevon,Merotec
Zostum,Netromax
Successful entry into exciting field of biotechnology – Enoxarin, Eporise, Peglast.
Joining hands with global giants and entry into the field of vaccines: Sanofi Pasteur – Verorab.
Partnership with MNCs for exciting cutting edge products
Zuventus Healthcare has  been marketing Gutclear containing Lactilol from Dupont (Danisco) with their technical support since past 4 years. It soon to be launched Dupont (Danisco) probiotic Restore II under Zuventus own brand name Florestore. Launching of 'first time in India' molecules with unique mode of action : Troxip (Troxipide), Lafaxid (Lafutidine), Seretra (Seretradrost). Entry into hitec area of sprays and pumps through association with globally renowned Aptar Pharma – a German devices company.     Set up Zuventus Healthcare  own Manufacturing unit at Jammu which rolled out the first batch in the month of June'11.Zuventus Healthcare  has own Formulation R&D starting October'12. Creating records and breaking them on a regular basis has almost become a habit with Zuventus. Needless to mention, many such milestones are quite on cards. The Vision of Zuventus Healthcare  is to bring joy and jubilation in people's lives by becoming a global healthcare provider through research based innovative & superior products with superior profiles. Zuventus Healthcare has a formidable presence in Anti-infectives, Nutritional , Cardiovasculars, Pain Management, Respiratory & Gastroenterology Segment & to to make significant contribution towards a Anemia Free India thereby supporting scientific and academic activities of medical fraternity through latest updates.
The Group Background
Emcure Pharmaceuticals Ltd. was incorporated on 16th April, 1981. The Group has emerged as significant force in manufacturing and marketing both in India and Globally. The core strength lies in developing and manufacturing differentiated pharmaceutical products in – house and commercializing the same through marketing infrastructure across the geographies. The group is ranked as the 14th largest Pharmaceutical company (sZuventus Healthcare ce: IMS Healthcare India, TSA Audit June 2014) in India. The Group has emerged as a leader in various therapy segments like Cardiology, Pain and Analgesics, HIV, Gynecology, Nephrology, Cephalosporin Injectable, Hepatology, Oncology, Diabetology, Vitamins – Minerals & Nutrients as Zuventus Healthcare ll as Blood products. The group has gained significant advantage due to its diversified / specialized group companies like Zuventus, Gennova and Heritage. Headed by a professional team each of this group has utilized their own strengths across therapy segments and geographies and know-how to make the group stronger and Zuventus Healthcare ll entrenched. The group products are available globally over 65 countries and enjoy the alliance of local and multinational companies to attain leadership. The group has subsidiaries in Dubai, Brazil, South Africa, Singapore and Nigeria and branch offices in Russia, Morocco and Shanghai. The group has nine manufacturing facilities including eight in India and one in United States, five of which are approved by USFDA. Zuventus Healthcare  quality is respected in India and world over and is testimonial of Zuventus Healthcare  supplies to leading multinationals. Zuventus Healthcare  group is respected as a reliable and proven co- marketing partner, evident through Zuventus Healthcare  collaborative relationship with companies like Sanofi, Roche, B.M.S etc. Zuventus Healthcare  offer technological expertise across various areas like API's (First to market opportunities in domestic markets), Bio Similars, Novel Drug Delivery Systems, Paragraph IV opportunities in US, wide expertise with various dosage forms, Chiral molecules, Peptides, Polymer based chemistry & complex products. Through Zuventus the group has emerged as a leader in Acute & Semi Chronic therapies in Indian Pharmaceutical Market.
Award Philosophy & Objectives
Uncompromising Commitment to leadership Values and Ethical Principles. Recognizes companies & Individuals that have exemplified ethical conduct & sincere commitment to healthcare innovations for the benefit of the workplace, marketplace, the environment and the community. Pharma Leaders Power Brand Awards those Companies & Individuals who exhibt rare display of innovation  for Outstanding Academic/Professional  Leadership bestowed annually each year to individuals/Companies who have/has advanced the mission of top ladder through extraordinary and outstanding leadership and who have contributed significantly to the enhancement of academic life professionally & individually . The top recognition symbolizes the best out of best from chosen few.Over the last one decade, since the institutionalization of recognizing excellence in healthcare & pharmaceutical business in the form of Pharmaleaders Business Leadership Awards , Pharmaleaders has recognized several individuals and organizations that have empowered the healthcare industry in the global map by creating values & manufacturing prowess;. These Pharmaleaders and organizations inspire the public by motivating others to carry out their calls to action, by serving as a champion for their cause and by demonstrating a clear record of accomplishment in addressing urgent, relevant and complex healthcare needs , problems & solutions. They also maintain consistent, long-lasting relationships with the people and communities in which they work.They are truly trendsetters. Thus the Annual Pharmaceutical Leadership Summit & Pharmaleaders Business Leadership Awards conducted years after years are truly India's only dedicated celebration of excellence in healthcare innovation, pharmaceutical & medical excellence and brand transformation. Most eagerly awaited annual affair in india, these set of awards reflect benchmark of credibility, leadership spirit & regarded by the industry experts as "Pharmaleaders Power Brands".
Pharmaleaders is  India's first opinion based & research driven bi-monthly magazine & has a decade of relentless reporting in Pharma Journalism in an unbiased, fearless & independent way. Over the last one decade, The Magazine has covered some of the biggest voices in healthcare Industry. Available both in digital & printed format, Pharmaleaders has emerged out as a leading title in voicing the opinion of the healthcare industry to the statutory Authorities like Ministry of Health & Family Affairs, Dept of Chemicals & Fertilizers, DCGA, FDA & many other institutions to present the pressing demands of the healthcare industry. Network 7 Media Group Media Outfit, a unit of Pharmaleaders, is a result of emergence of an extreme thought process in the form of some of the biggest & exclusive media properties that arose due to the frustration & disappointment of the present status-quo of the society in existence in the form of a careless & extremely insensitive administration of a large set-up. Network 7 Group has continuously strived to expose the misdeeds of the corrupt administrative fabrics or poor legislation or failure of a large entity in corporate governanance. Distinctively standing out of other media initiatives, Network 7 group has been in the forefront of championing the cause of good governance , fair, unbiased & independent reporting in national & international fields. Driven by the objective to address & deliberate some of the burning issues, sometimes neglected causes, Pharmaleaders is pioneering the concept of introducing a fierce democratic process in the form a mass resistance in bringing into the forefront of issues that matter most in the form of digital, printed, published, conclaves, summits & even in blogs & letters shoot out to the authoritative.  Headquartered in Mumbai, Network 7 Group Media Outfit is backed & operated by some of the biggest think-tanks of the contemporary society whose ideas & actions are reflected in the form of editorials & exclusive news findings. Network 7 Group Media is present in the form of digital media production, publications, high-profile international events & healthcare communications.
Media Contacts
Sangeeta Singh
Network 7 Media Group
Unit No.47, 2nd Floor, Aditya Industrial Estate,
CTS No. 1068-C, Plot No. 444(P),
Devrukhkar Wadi,Chincholi Bunder Road, Malad (W),
Mumbai–400064.+ 91 22 42481253, + 91 22 42481259
Mr Anish Khan : ++ 91 9819499475 : anish@dreamzactivations.com
Ms Sneha : ++ 91 9930583326  sneha@dreamzactivations.com
Web : www.pharmaleaders2014.com