Our Mission is to become a strong Global Player both in Contract Manufacturing & Branded Formulations – Mr. D.C Jain, Chairman, Akums Drugs & Pharmaceuticals Ltd
 Our Mission is to become a strong Global Player both in Contract Manufacturing & Branded Formulations – Mr. D.C Jain, Chairman, Akums Drugs & Pharmaceuticals Ltd
India's largest Contract Manufacturing Pharmaceutical Company catering to 2.5 % of the total production in the country, now set to expand its formidable international presence in coming years.
Akums Drugs & Pharmaceuticals Ltd, India's top & biggest contract manufacturing company & supplier of pharmaceutical medicines to the big pharma companies both MNC & Domestic has initiated a series of initiatives to spread its wings in the fiercely competitive global market specially in the regulated markets with a focus to be a strong global player through collaborative partnership, alliances, co-marketing. The company is looking to penetrate the international market & has been registering products in different countries & is making huge investments to make the products available to the global market said the visionary Founder & Chairman Mr. D.C.Jain  of the indian unlisted top pharma company Akums Drugs & Pharmaceuticals Lts in an exclusive interview with Satya Brahma, Editor-In-Chief of the Pharmaleaders Group. Boyed by the rapid success of india as a top destination hub to the world market because of India's excellence in manufacturing sector, Mr.D,C.Jain is charting out a ambitious growth plan with two of his dynamic  sons Mr. Sanjeev Jain & Mr. Sandeep Jain, promoter Directors . A case in the pointer is that the Indian pharma market size is expected to grow to US$ 85 billion by 2020. The growth in Indian domestic market will be on back of increasing consumer spending, rapid urbanisation, raising healthcare insurance and so on. The Indian pharmaceuticals market is third largest in terms of volume and thirteen largest in terms of value, Global players in the pharma industry cannot afford to ignore India. The country, many predict, will be the most populous in the world by 2050. India will make its mark as a growing market, potential competitor or partner in manufacturing and R&D, and as a location for clinical trials.
@AkumsDPLto @pharmaleader to become a strong Global Player D.C Jain,Chairman, Akums in an interview to @SATYABRAHMA pic.twitter.com/GPNqB1gZq3

— Pharmaleaders (@pharmaleader) July 23, 2015
After making a strong inroads in the domestic market as the most trusted contract manufacturing company in india, Akums is all set to expand in the global sector says D.C.Jain " We are committed to our vision of our company to be a To be a global pharmaceutical company with an enduring commitment to quality & globally admired pharmaceutical company providing excellent quality products to our customers and people of the world which will be a One stop solution for contract manufacturing services in all dosage forms be it in Contract Research & Manufacturing Services (CRAMS),Formulation & development of Novel Drugs Delivery Systems (N.D.D.S.), Loan License, New Formulations with DCGI Approvals, Institutional business, Technology Transfer. Akums specializes in developing new formulations, undertaking bioequivalence studies, clinical trials, obtaining Drug Controller General of India's (DCGI) approval for manufacturing and marketing of new Fixed Dose Combinations (FDCs) & molecules and thereby offering new formulations with Akums's own technology to its customers under their brand names. Akums manufactures innovative and technology driven products"
Addressing the most important aspect of the customer & their ever increasing demands, D.C.Jain elaborates that "Delivering quality to customers in a competitive market place dictates the need to continually enhance a customer's experience and satisfaction. However, evidence indicates that satisfying customers is not enough to retain them because even satisfied customers defect at a high rate in many industries. This suggests that businesses must strive for 100% or total customer satisfaction, and even delight to achieve the kind of customer retention they desire. Improving customer relationships and increasing their loyalty isn't simply about managing interaction with customers better or targeting them better. It is about serving them in a fundamentally improved way". We know this will be key to our business models. Satisfaction arises when consumers compare their perceptions of the performance of a product or service to both their desires and expectations. This comparison process produces not only feelings of satisfaction with the product or service, but also feelings of satisfaction with the information,
Creating Customer Value, Satisfaction, and Loyalty are key to our business models Today, companies face their toughest competition ever. Moving from a product and sales philosophy to a holistic marketing philosophy, however, gives them a better chance of outperforming the competition. And the cornerstone of a well-conceived marketing orientation is strong customer relationships. In this chapter, we discuss how companies can win customer loyalty and improve profits by doing a better job of meeting or exceeding customer expectations. We also discuss the use of database marketing for customer relationship management.
BUILDING CUSTOMER VALUE AND SATISFACTION
Consumers are more educated and informed than ever, and they have the tools to verify companies' claims and seek out superior alternatives.2 How then do they ultimately make choices? Customers tend to be value-maximizers, within the bounds of search costs and limited knowledge, mobility, and income. They estimate which offer will deliver the most perceived value and act on it. Whether the offer lives up to expectation affects customer satisfaction and the probability that the customer will purchase the product again.

---
The Success Story & growth Momentum
AKUMS manufactures more than 2500 formulations in all dosage forms and therapeutic segments. With manufacturing expertise along with innovation & quality approach, Akums has its presence marked in the Indian & global pharmaceutical space. Akums  exports  formulations to various global markets. Akums has  filed substantial numbers of dossiers in different countries. The process of filing dossiers for regulated market is in advanced stage of progress. There is a full-fledged team of highly professional & experienced personnel competent to prepare and submit dossiers as per CTD, ACTD and guidelines of MOH of different countries with a highly experienced team in international marketing to take the export to new heights. Akums has a progress plan laid and have plans to acquire USFDA approved facility to facilitate export to US and other regulated markets.  The manufacturing units have International approvals like – ANVISA – Brazil; NAFDAC; Nigeria; FDB – Ghana; PMPB – Malawi; PPB – Kenya; MOH – Libya; MOH – Cambodia; DDA – Nepal; CD&DA – Sri Lanka; MOH – Vietnam; MOH – Belarus; DPM – Ivory Coast etc. Akums has  global foot prints in countries like Libya, Nigeria, Ghana, Ethiopia, Liberia,Malawi, Philippines, Vietnam, Hong kong, Sri-Lanka, Nepal, Bhutan, Myanmar, Afghanistan,Malaysia, Venezuela, Belarus, Ukraine, Tajikistan & Francophone countries etc.
Key Features of Manufacturing Excellence
The largest Pharmaceutical formulations manufacturer in India.
The Facilities are rated as one of the best
Manufacture 10% of India's total domestic medicine consumption.
Manufacture more than 2500 formulations in various dosage forms.
Excise exemption benefits upto 2020
Manufacture number of top ORG brands.
There would barely be any retail shop

s

where products manufactured by us are not available
Offer

s

formulations in almost all dosage forms across majority of therapeutic Segments.
Nearly 300 DCGI approvals received for New F.D.C.s and molecules & around 400are in pipeline.
Over 60 applications for Patent filed and many more in pipeline.
Constant Focus on Highest Quality standards under supervision of qualified & experienced personnel of the industry in QA, QC and production departments.
Follow Best policies for training & development of technical & Non-Technical Personnel.
Catering to GMSD, Indian Railways , Defence ,ESIC, RMSCL, MSCL, DHS – Delhi, DHS – Assam,
DHS – West Bengal, ICDLWS, AIIMS – Delhi ,etc.
Rated 5A2 by Dun & Bradstreet indicates overall status of the Company to be good.
A + (A Plus) and A 1 (A One) rating by ICRA for Long Term Rating and Short Term Rating.
Use integrated SAP and LIMS Software for operational excellence.
Manufacturing processes in all its units aim at ensuring maximum energy conservation,
pollution control and effective waste management.
CSR activities are carried out intensively and throughout the year.
Exports to Libya, Nigeria, Ghana, Ethopia, Liberia, Malawi, Philipines, Vietnam, Hong Kong, Sri Lanka, Nepal, Bhutan, Myanmar, Afghanistan, Malaysia, Venezuela, Belarus, Tajikistan & Francophone countries.
Akums has ultra modern infrastructure with around 200 packaging lines, 12 Alu-Alu, 2 AF 150, 1 AF 60, 18 Granulation section consisting of RMGs, 10 Fluid Bed Processors, 25 Auto-coaters, 2 FFS, 7 Tunnels, 550 AHU's
---
Leadership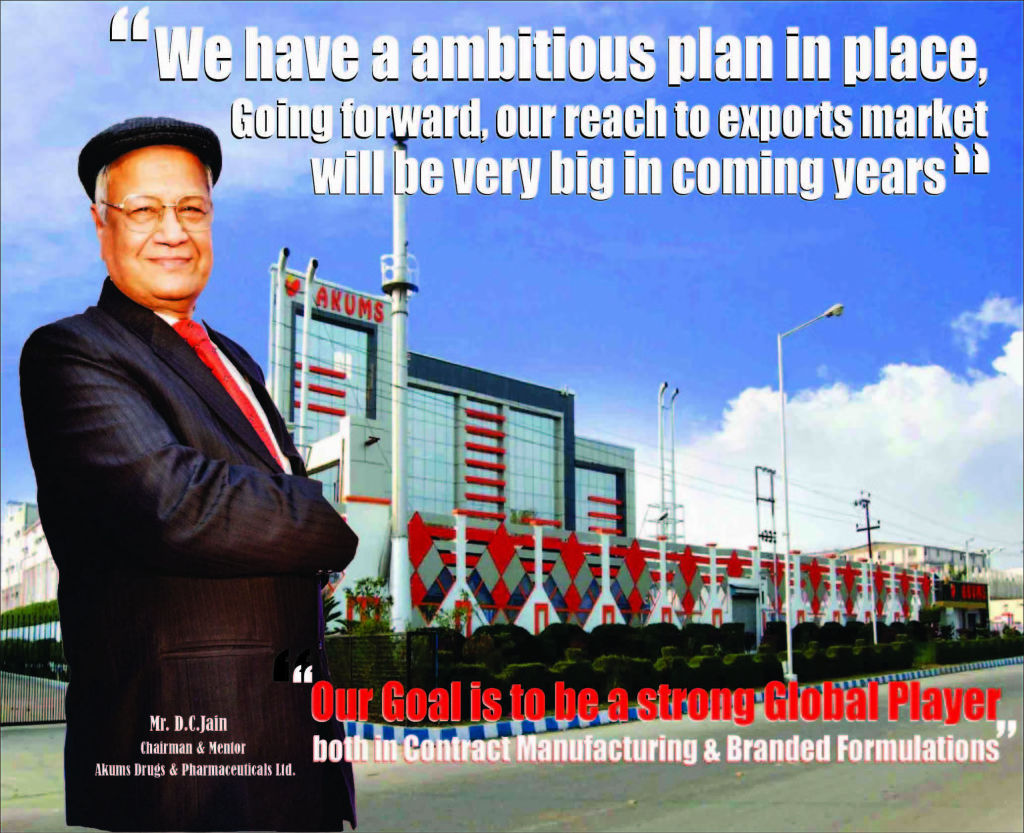 Mr. D. C. Jain, is the founder promoter & Chairman of Akums Drugs & Pharmaceuticals Ltd. He has nearly five decades experience in controlling various industries as top level Company Executive. He had been President of the Institute of Company Secretaries of India. He is a professional of high stature. Under his stewardship, Akums Drugs & Pharmaceuticals Ltd., has become icon of India's healthcare industry and today is the largest Pharmaceutical Company of India. It manufactures 10% of total Pharmaceutical formulations of the Country. Akums manufactures TOP 70 out of 100 ORGs brands.There is hardly any retail store in the country, where products manufactured by AKUMS are not available. Under leadership of Shri D.C Jain, the Company made several national and foreign collaboration agreements and reached new heights of growth. His innovative ideas in creation & retention of customers have brought company to its pinnacle.
Sanjeev Jain, the  Promoter Director of the company, has 30 years of experience in the field of sales and marketing of pharmaceuticals. Sanjeev Jain has been awarded order of Merit in Management and has also been honored as Samaj Shree for the kind voluntary services rendered by him to public & society. Udyog Ratan Awardee from Institute of Economics Studies, Business Partner of Choice by Piramal, commendable appreciation by Abbott India for the contribution extended in  launching Heptral first time in India. With his able leadership & vision, he has achieved the Best contract Manufacturer of the Year-2012 Award. In 2014, Sanjeev Jain received the prestigious Dynamic Entrepreneur Award at the historic 6th Annual Pharmaceutical Leadership Summit & Business Leadership Awards by Pharm leaders. The pharmaceutical industry identifies him as a visionary, leader & mentor who has achieved many milestones envisioning a future; while treating each milestone as a ladder to reach for more. Sanjeev Jain has been instrumental in setting up the Company. He combines in himself dynamism, dedication, diligence, devotion, determination, discipline & direction. Under his wisdom, leadership and professional approach, the Company made several national and foreign collaboration agreements and reached new heights of growth. His innovative ideas in new product development, patents; creation & retention of customers have brought company to its pinnacle.